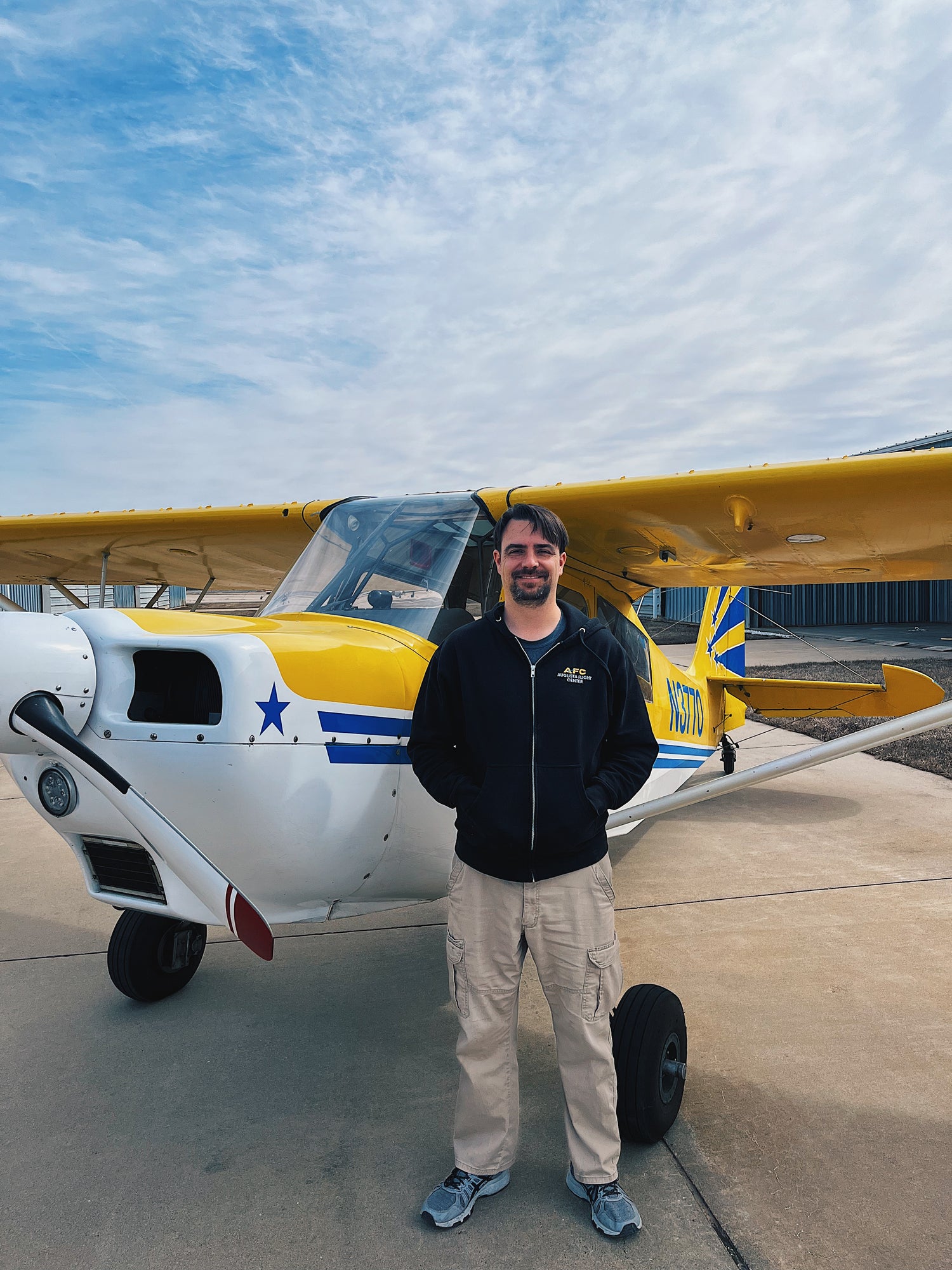 Your path to the skies
At Augusta Flight Center (AFC), you'll be learning from the best in the business. Our owner and operator, Joseph Bertapelle, is a seasoned Flight Instructor with over 3300 hours of instruction under his belt. With a wealth of experience as a former USAF captain, 7 year KC-135 navigator, and over two decades of instructing, Joe is well-equipped to guide you on your aviation journey. He holds a CFI, CFII, and MEII, has been awarded his Gold Seal for Instruction, and is even a 2-time NAFI Master CFI.

At AFC, you'll have access to a diverse fleet of aircraft including standard Cessna 172s, Piper Cherokees, and a range of specialized aircraft for sport, tailwheel, aerobatic, complex, and technically advanced training. With instructors from various backgrounds, you'll get a wide range of experience and insight from our instructors.

We understand that everyone learns at their own pace, and we're here to accommodate that. Our instructors will work with you to ensure that your training experience is unmatched and tailored to your individual needs and pace. So come join us at AFC and take to the skies with confidence!

Get in Touch
More Information
The Planes

Augusta Flight Center offers a large and well-maintained fleet at great hourly rates. Our Fleet models include Cessna 150/172, Beech A24R, , Piper 235/140, Bellanca 8KCAB, CZAW SportCruiser, and Multi-Engine Beech B95. Click "Our Fleet" below for prices and more!

Our Fleet

The Experience

A 30-minute or 1 hour flight with one of our instructors, and you'll be at the controls for most of it! You'll learn one on one the basic principles of flight, pre-flight inspections and more! Up to three passengers can ride, depending on model and useful load. In-flight photos are encouraged! Click below for more information!

Discovery Flight

The Crew

When learning to fly, one of the most important aspects is having the right instructor. Our crew consists of many CFIs with unique backgrounds and skill sets. Selected by owner and Master CFI Joe Bertapelle with the goal of providing unmatched instruction and trainning. Come visit us and find the right instructor for you!

The Crew
Bekah Harris

THESE PEOPLE ARE AMAZING!! The staff at AFC are so knowledgeable about what they do and are always there to help. If you need a license or rating, go to AFC.

Incredibly friendly

Easy rental process

Good facilities

Location of airport is great for private pilot training

Ronn Parr (Parr 4 the Course)

Great airport with friendly staff, always eager to answer questions or give you a helping hand. Terrific location to learn to fly as it's convenient to Andover/Wichita/Augusta.

Logan O'Beirne

Great place with great people. I received my private and continued to make use of their rental programs. If you are looking for a place to train for your private, this is it!
Instruction

Dedicated team of instructors selected by 2x Master CFI Joe Bertapelle

The Crew

Our Fleet

Our fleet is the most diverse in the area. This variety allows you to build a wider range of stick and rudder skills.

The Fleet

Your Way

Advance at YOUR own pace. We work WITH your schedule, not the other way around.

Pathway

We provide every single instruction and aircraft needed to go from Private all the way to ATP. Providing you a direct pathway to a career in the skies.